This Week Featured Here
The news
Images from the Cassini spacecraft have shown something incredible underneath Saturn's moon, Enceladus, a global ocean of liquid water. Do you know the expression when there is smoke there is fire? Well, it is the same as in space, when there is water there is life. This means that since there is a whole ocean under Enceladus, who knows what might be swimming there! Maybe one day we could send a spacecraft to Enceladus and find out for sure, but for now we can only imagine and wonder.
By: Nico Curreri
Nico Curreri blog photo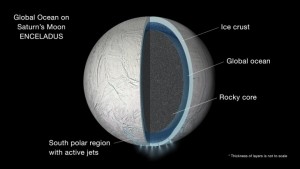 My awesome third grader, Cruz, created his own short movie recently. Here is his reflection on the experience.
Hey everyone! I would just like to say that today I made my own short movie at this place Y.M.L. (Young Makers Lab) and my own logo! Today was VERY fun at Y.M.L. They have 3D printers, computers, and this website that's called Scratch. It's a website that you can help you make your own animated video. And, if you want they have a camp that is called DigiCamp. I love Y.M.L!  By Cruz   Check out his cool logo here Cruz entry
Students were given three prompts to choose from. One of them was to write an essay about having their own cooking channel. Students were asked to give details as to how they came to having their own cooking channel. Below is a creative essay about a cooking channel- Tastes So Good.
My poetic third grader, Milena, used one of the images from our Pinterest writing board to inspire her poem.
LOLA
Black and white, fluffy
Best dog in the world, love her
Playful and fun, friend.
Milena I.
By M.S. (5th Grader)
Hello everyone, I will tell you a story of how I started my cooking channel. When I was little I always watched how my mom cooked soup. I thought…. when I grow up I will make my own cooking channel called
Dunlein Cookies. However, when I turned 15 years old, I thought about something else. Video games and live playing video games. Then, I started cooking again and my mind changed. I cooked all day long everyday.
Finally, I got a job at a restaurant called Clot Monet. After working at Clot Monet for two week, I was fired! Then, I found another job at a restaurant called Smokey Bones. I was grilling smokies, ribs, and collard greens. I also made a BBQ sauce. It was perfectly tasty and not too saucy. At this time, I started my own YouTube channel.
My YouTube channel was called My Chef Tips. I was making videos about how to make the perfect omelette, eggs and steak, and other foods. After one week, I went to my YouTube channel and guess what? 17,861 subscribers! I was so amazed and I thought maybe I would be popular one day.
A month later, I went to the most famous restaurant called Chilis. (Well, I think it isn't the most famous in the world, but it is famous for me). I started my show called Taste Good. I cooked meals differently and were good. I became famous after this.
SUPER KID
By R.G. (4th Grader)
     There was a little boy named Joshua Johnson. He had secret super powers. Not even his mom and dad knew about them. He was three years-old when he realized that his pet turtle, Hidey, could talk to him. Joshua was the only one who could understand her. Hidey told Joshua to keep a secret about them talking to each other.
     One day, Joshua went to preschool and found out about another power where he could slow time down, but no one noticed. He used this power to play with toys and games for as long as he wanted. Now, Joshua is nine and he is still best friends with Hidey. He still has his super powers.
R.G. chose the image below of a little boy from our class Pinterest "Images to Motivate Writing" board to inspire this short story. 
      Charley is a man. He is 35 years-old. He has many special superpowers. He can teleport. Also, he can change his looks. He's from the future. Charley is from 3027 A.D. He can turn into a 10 year-old boy in a snap. He can go to where he is thinking. He has to whistle in order to change his looks. His last superpower is that he controls the weather. He does that by clapping. It can be lightning, but not raining because of him. In addition, he can make it sunny.
      Charley is unknown. Scientists just discovered him. He speaks Portuguese and said, "Esperemos que ha mais de menna especie ao redor." (Hopefully, there are more of my kind around). He is very special. Humans have not discovered  anymore people like Charley. will scientists find more of his kind?
By: E.T. (5th Grader)
E.T. chose the image of the older gentleman from our class Pinterest "Images to Motivate Writing" board to inspire this short story.
      During winter break, I was with my best friend, Kayla, on vacation in the Dominican Republic. We brought our moms. We also brought Kayla's sisters. We had planned it for a long time.
      Finally, we got there. As soon as we did, we went to the hotel. We did not even unpack. We rushed outside and played soccer. Then went to get pizza at Marino's. We got pepperoni, meat lovers, and cheese.
      Then, we watched the movie, Now You See Me, and  we thought the movie was excellent. Afterwards, we ate a quick snack and went to bed. The next morning, we went on the boat. We caught fish, went swimming, and water skiing. Later, we went swimming with the dolphins. I had so much fun!
      Then Kayla, Claudia, Gabby, and I went on a walk. We all got mint chocolate chip ice-cream. "It's my favorite," said Kayla. On our walk, Kayla and I saw something bright. We saw fire and lava on water. It was the most beautiful sight I have ever seen
By: S.C. (5th Grade)
S.C. chose the image of fire on water from our class Pinterest "Images to Motivate Writing" board to inspire this short narrative.
       At least two years ago, I was on vacation with my family at the beach. When I first saw the explosion, I freaked out. I couldn't believe what I saw through my eyes. I was at least two peaks away from the fire. It was probably the scariest thing I'd ever seen.
       I was wondering if anyone was in the fire and explosion, next to it, or saw it happen. I was with my whole family. It was in Canada, Montreal. Soon after, my whole family called the fire station and the police. They said, "It will take 2 hours to get there". All the police and firemen were in Boca Raton. (This is were we live).
       Two hours later the fireman and the police were here. "We are so sorry it took so long," they said. The airplane almost crashed, but they fixed it and we didn't crash. We were so happy that everything turned out okay. We got back on the plane and went back home to Boca Raton, FL.
By K.A. (5th Grade)
K.A. chose the image of fire on water from our class Pinterest "Images to Motivate Writing" board to inspire this short narrative.
       One day, I was taking my dog for a walk. I needed to get out of the real world. I was sick of the gossip and the crime. I was just taking a stroll and I got to the peak. I was looking at the clouds wondering…. "What is it like up there?" All of a sudden, my dog Biscuit, got up and went to the edge of the peak. When I looked down, it was burning and flames were every where.
       I had no idea what to do. There was water pushing against fire. Is that even possible? My brain was stopped in its tracks. Was this the earth's doing? Could fire fighters even stop this? It was a war between two natural enemies in a war that was unstoppable.
       I got my phone out and called the fire fighters. Someone picked up, but I lost service. I had to do something. I tied Biscuit to a tree. I tried to throw my water, but I was two peaks high. It had no effect; it was as if I was throwing air. I was terrified. Was it going to spread? I know two peaks high is a stretch, but you never know. I was amazed that I was able to stop it.
By A.G. (5th Grade)
A.G. chose the image of fire on water from our class Pinterest "Images to Motivate Writing" board to inspire this short narrative.